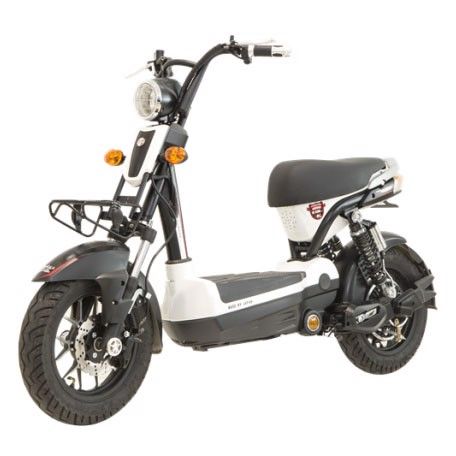 E08
This type of electric motorbike was researched by Japanese engineers for two years with details specifically designed for Vietnamese and environmental conditions in Vietnam.
Following the outstanding features of Tsubame company: No emissions, no noise and desire a green, clean and beautiful Vietnam like Japan.
The quality of the E08 is managed and monitored by highly qualified Japanese engineers. Disassembled or assembled parts are calibrated to meet traffic safety standards.
Adjustable headlight system makes E08 convenient and easy for you to drive.
E08's chassis is designed to be more convenient to move, avoid bumps when being used.
The waterproof speed regulator is placed in the trunk of the bike that make it different from the regular models.
E08 is a gift of Japanese engineers who want to send to the young Vietnamese a bike with best quality
Chassis

- Elegant design and suitable for Vietnamese customer height

- A combination of Vietnamese beauty and Japanese imprint

- Designed carefully by Japanese engineers who have a deep understanding of the physique and usage habits of Vietnamese people.

Convenient

- The trunk is designed with an inconsistent space that allows the user to carry the personally necessary things

- Built-in USB charging port in the trunk of the bike so that the user can both drive and charge the phone

- The weight of the trunk is up to 5kg brings the feeling of safety and maximum convenience for users.

Quality

- All components are meticulously assembled to bring perfection and maximum experience when used

- E08 engine, rear feet, engine radiator, and damping is a new standard in Vietnam electric motorcycle industry.

Movement ability




- E08 can run 45-50km with just one charge.

- Electricity cost for one charge is about 6000 VND (charging time is about 8 hours)- No releasing toxic substances like gasoline vehicles.


MAXIMUM SPEED

The E08 has a maximum speed of 45km / h.E08 electric motor will bring user a smooth feeling and extremely comfortable to use.When operating at maximum speed, the bike still operates smoothly without any error.

Slopes climbing ability

E08 has 12 ° slope climbing ability (21%)Consistent with the terrain and moving properties of VietnamApplying Japanese technology brings superior strength in comparision with other models
| | |
| --- | --- |
| Total length: 1,766mm | climbing ability: 12º |
| Total width: 615mm | Front brake /Disc brakes |
| Total height: 1,081mm | Back Brake / mechanical brake |
| Number of people allowed to carry: 2 | Tires 90/90-12 |
| Brushless lead battery battery motor | Lead batteries |
| Distance to travel on 1 charge: 45-50km | Battery voltage / Capacity 48V-20Ah |
| Maximum speed: 45km/h | Charging power: AC100V-240V |
| Rated capacity: 48V/30A/12 | charging time: 8 hours |
6.000 VNĐ

The power consumption level of E08 is 0.014kWh/km. Therefore, the cost to operate 200km is 6000 VND, much cheaper than gasoline vehicles.

EMISSIONS

When operating, there is no C02 discharged. Through calculation, the power generation process of E08 has reduced 88% of C02 emissions when comparing with gasoline-powered vehicles.