TSUBAME E-TIME VIETNAM COMPANY GAVE 100 E-BIKE FOR POLICES OF HANOI CITY
In order to support a flexible and friendly means of transport for officers of the Hanoi City Police Department, on the morning of August 29th, 2018, Tsubame E-Time Vietnam Company held a ceremony to award and hand over 100 Japanese electric motorbikes to the Hanoi City Police.
Attending the ceremony were Comrade Major General Doan Ngoc Hung - Deputy Director of Hanoi City Police and comrades Chief of Staffing departments, Finance Department, Logistics Department, Party Affairs Department and Chief of Police of these districts: Ba Dinh, Dong Da, Hai Ba Trung, Hoan Kiem.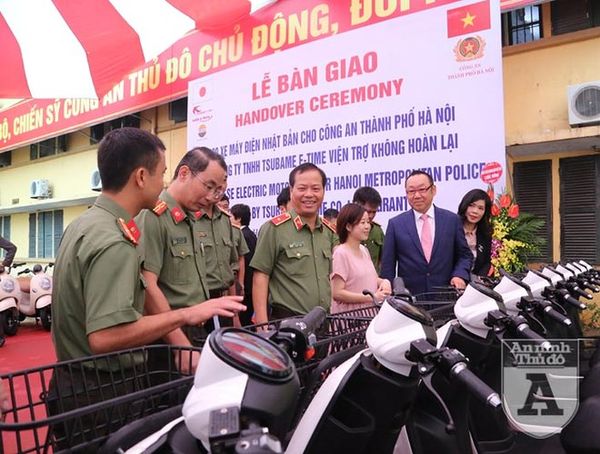 Being a populous city and a center of economic and cultural politics of the country, the security and order situation in Hanoi city is very complicated. In this situation, the mobilization of all people to participate in security and order protection has been always promoted by the government and Hanoi city police. Tsubame E-time Vietnam Co., Ltd. provided 100 electric motorcycles to the Hanoi City Police is a meaningful work that contributes to each soldier to successfully complete all assigned tasks, while contributing to reducing emissions of greenhouse gases and polluting the environment. green and clean in Hanoi city.

Attending and giving a speech at the ceremony, Major General Doan Ngoc Hung - Deputy Director of Hanoi Police Department was delighted at the interest of businesses based in the city with the police force. At the same time, he also wished the government and people in Hanoi cooperates and supports Hanoi police force better in patrolling, ensuring security and order in the area.